Blooper:

/ ˈbloōpər/ "blunder," 1947, either from Amer.Eng. baseball slang, "a fly ball missed by the fielder" (1937) or "radio receiver that interferes with nearby sets" (1926).
With an etymology like that, it's not a surprise that radio was the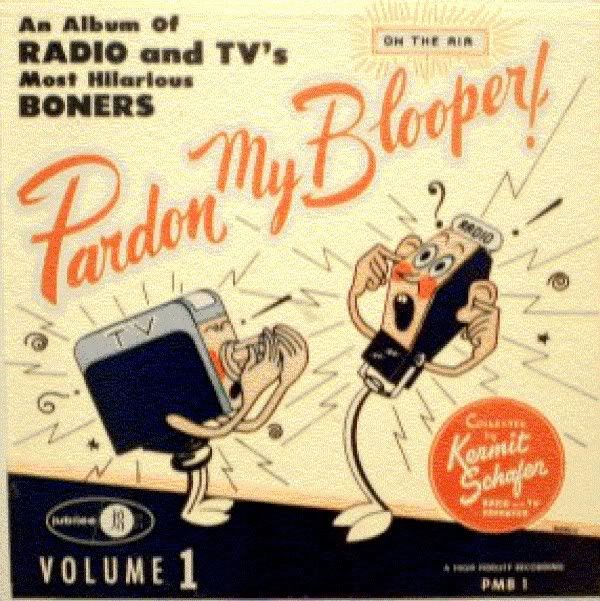 medium that popularized the term. It was Kermit
Schaefer
(no relation to the frog) that re-coined the term to mean blunder. The word may have made the transition earlier, but it was
this
popular 1960s series that brought it into popular use. The only let down for me is that after 40 years it's hard to attribute the clips without program names or calls. On the LP he mentions very few call letters and only a few programs specifically.
WOR

-AM
and
WOKO

-AM
get outed for example.
Jubilee records put out at least 5
LPs
of radio bloopers. I only own one LP-2011 from Volume 4. Mine is thankfully a 33 that I can play on my old
Technics
1200. It makes the MP3 rip so much easier. Pardon My Blooper's first LP was rocketed to popularity because of a libel case over the release.
Not all bloopers were from source audio. If Kermit couldn't get the real deal he'd just recreate it. Radio host "Uncle Don" Carney, was less than pleased about one recreation, and he sued. There were many other accusations that the "re-creations" were inaccurate. But this only increased demand of
course
. But some of the audio was real. He had an infamous clip of Paul Harvey giggling like a stoned sorority girl. The albums were re-released in the 1970s by K-tel. They're out of print today of course. and in
today's
syndicated, time-delayed,
pre
recorded voice-tracked
radioland
bloopers are very rare indeed.