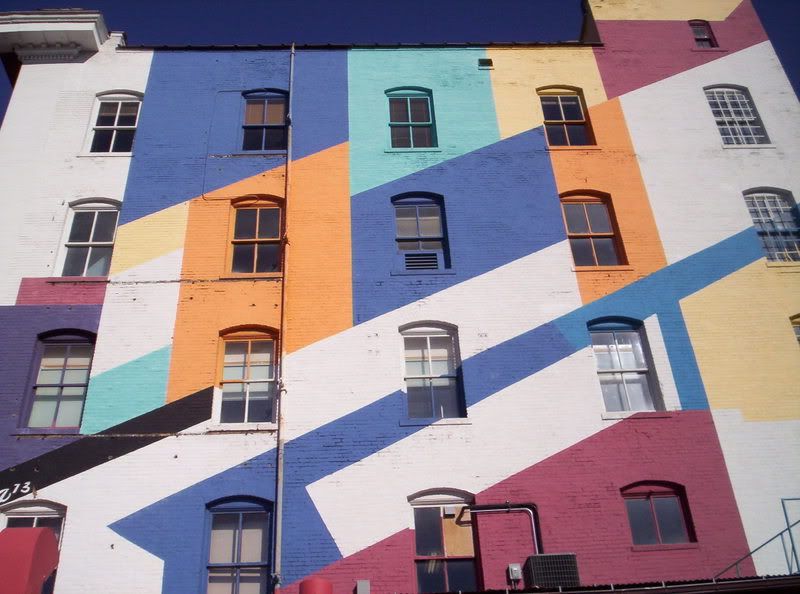 On the road for a few days but thankfully in some good radio country. I had two days in Minneapolis, and only made it out to The Electric Fetus
once
What a record store, it's like Mecca for music geeks. I bought a Duane Eddy Double Disc,
EEVIAC
by Man or Astro-Man and that
album
by Cast King, all out of the used bin. They gave me a MVY comp and a Bloodshot records comp. fair trade. I've been to Minneapolis before but so briefly I couldn't hit Mecca. I did revisit
KFAI
which now seems kind of pale beside
KCMP
. And I still cant get clos
e enough to
WMCN
to hear it'd meager 5 watt signal.
KUOM-AM
still hold's it's own against "the Current" foregoing the softer Triple-A ish cuts for a far more indie playlist.

I blew town and crossed the border into the land of the Cheeseheads. Wisconsin has a simple, easily understood culture. Everything centers around cheese, beer and football. I had hoped to cut through Wasau and catch a little

WRIG-AM

but I took a wrong turn near Eau Claire after being very distracted by an incredible sandwitch at Moe's Diner called "the Dagwood" in Osseo. I ended up on Route 10 a couple hundred miles early.
Eau Claire is riddled with LPs which was a plus.
96.3 WHYS-LP

http://www.whysradio.org/
96.9 WJLM-LP

http://www.wjls.com/

97.3 WHRC-LP

http://www.whrcradio.com/

101.9 WRFP-LP

102.7 WIEC-LP

http://www.wiecradio.org/
107.9 WLFK-LP
WJLM

and

WHRC

are just religious talk, and

WLFK

closed in 2003 (story
here) after less than a year of tunage.
WHYS
is pretty eclectic, running world beat that morning. But
WIEC
was MORE eclectic, "fat-free radio" mixing jump-blues and tabla jazz, the playlist is totally absurd. Piedmont College's
WRFP
is a college station but that one morning an inept sportscaster was fumbling his words. All this is in addition to
WHWC
, and
WUEC
, pumping NPR all night and day.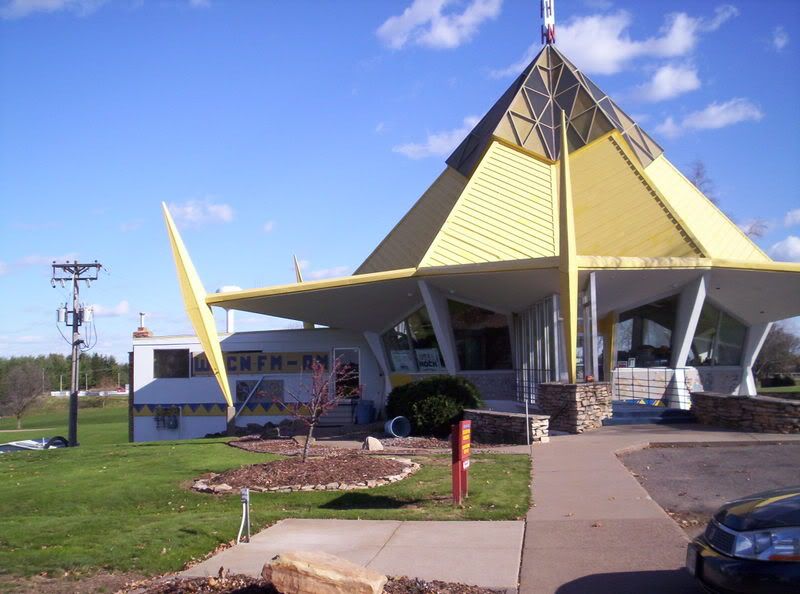 I stopped in Steven's Point to catch 88.9

WWSP

which was excellent. In Neillsville I stopped to see both Bessie the worlds largest talking Cow and

WCCN

. Bessie told me to visit the gift shop, not exactly sage advice. The building above was stolen from the world's fair in 1965 and dragged out here. Awesome, more
here. Then in Auburndale on an impulse I stopped at Cutlers antiques. They had a dozen Edison Cylinders in good shape and a great collection of 78s. I picked up one cylinder and a 78 of the Light Crust Dough Boys. I couldn't resist. they had some, large print typewriters, and a working phonograph but in the back was the real beauty. Only $195 I almost bought it.
I don't know idea what this is for sure. It looked like a turntable but it's not. On the bottom edge of the picture is my Size 10 boot
for scale. This turntable is about two-feet in diameter. Next to it was a crate of discs sized for it. They were blanks manufactured by "audiodiscs" That shiny spot onthe disc is a penny for scale. Those discs weren't shellac or PVC, they were heavy as hell, probably copper.. I realized they were acetates. Beside it were some more normal 10 inch blank discs some by Duodisc, Microlet and more by Selmer. Yes, the same Selmer that makes Saxophones. The hint was that taped to the side of the phonograph was a small packet of "record-cutting needles" I think this was some kind of massive record lathe. It had no brand name on it and damn I couldn't think of a way to get it home.

I'm pretty familiar with
Selmer
as an manufacturer of high-end brass instruments, but not for making acetate blanks. Microlet is a bigger mystery and my picture didn't come out so I got nada. The exact type of lathe this is remains a mystery, but this"> site filled me in on acetates. It looks kind of like a Presto.. But that might be to much to hope for...