Lots of radio stations play Ray Charles today, his work is a staple at the oldies format, urban oldies, and even some of the less lame Urban AC outlets. His rendition of "America the Beautiful" is played at sign off all over the country. His song Georgia on my mind is the official state song of our 23rd state. ...And really, after the movie "Ray" who doesn't like Ray Charles? And what the hell does this have to do with radio? In the 1940s he spent some time as talent on
1240 WFOY-AM
, then just a 250 watt daytimer, but still a CBS radio affiliate. In 1948 he and his Maxin Trio did a few pay-to-play 15 minute spots on
KRSC
in Seattle.
KRSC
actually launched an FM stick in 1947, and it was on this brand new FM station they played. After that he used radio more to record than to broadcast.
Well. When Ray Charles' career first began there were not a large number of recording studios around. Recording was expensive and most artists couldn't afford to cut a demo for vanity's sake. While he was on Atlantic records, studio time wasn't really an issue. But he still was using some odd ball studios. Atlantic records was an indie label. It was a move up for him, but he also became their first big artist. Ray Charles' early singles made him the bread winner for that label. Before he made it, they were nothing special. He outgrew the label quickly and moved over to ABC.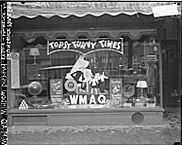 So, Ray got started in radio, not as a DJ but by recording his early singles at radio station studios. In Atlanta, Chicago and New Orleans.
The classic "Rays Blues" was recorded at
WDSU-AM
in New Orleans in 1953 as were many other sides. I got a woman was actually recorded at
WGST-AM
in Atlanta (still owned by Georgia Tech at the time, ...and 4 sides were put to tape
WMAQ-AM
Miami.
It was Zenas Sears, then only an Atlanta deejay , got studio them time for on WGST they recorded some of his all-time classics including I've Got A Woman, Greenbacks, Come Back Baby, and Blackjack. The only reason Ray was in the WDSU studio is that Cosimo's was booked. He still managed to lay down a killer version of Don't You Know with a backing band of hired hands.