It was a lovely summer day on July 9 in the year 2003. But then a naked, fat DJ ruined it and was subsequently arrested for public exposure. This was not a simple, juvenile streaking incident or a simple skinny dip among friends. This was something special.
http://www.989therock.com/
A classy gentleman going by the moniker "Tard" aka T-Bone ( real name Dennis Jordan) from
KQRC 98.9
"The Rock", in Kansas City, (syndicated on
KFH-AM
in Wichita) taped 100 Powerball lottery tickets to his naked body. Then he went out to the intersection of Shawnee Mission Parkway and I-35, and stood in the median strip. He timed this at 7:30 AM local rush hour! On air co-conspirator Johnny Dare, encouraged listeners to pull over their cars and take tickets off him. He was arrested for public nudity and disorderly conduct.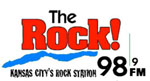 Tard was in communication with the in-studio cast via cell phone and his exploits were being described to the listeners over the air. According to the Kansas City Star, Tard was arrested at 7:40 a.m. with only about 15 tickets remaining taped to his body. In their defense the Powerball jackpot was almost a quarter of a billion dollars that week.
In 2004 a different DJ on the same station
KQRC
caused another ruckus over a little public nudity. Johnny Dare, host of the "Dare and Murphy Show" featured a session of "Naked Twister" with local strippers and graphic interviews with porn stars. The FCC proposed a $220,000 fine for owner Entercom Communications. More
here
. It's sometimes difficult to make these fines stick. As one Howard Stern fan once quipped "How does one 'sound' naked?" Welcome to radioland.