Moline isn't a metropolis. In fact it takes four towns banded together to call itself quad Cities: Moline and Rock Island Illinois, Bettendorf and Davenport, Iowa. Strangely some folks count East Moline as a 5th and Separate City. I can state for the record it smells different than the rest of Moline.. kind of like Sour Cat food. It sticks with you. (I thought I left something bad in the hotel rooms trash can)
But I did have my best meal of the trip. I had lunch at cafe Fresh just because it was close and was wowed. A totally unexpected good meal is very welcome after a few days of tuck stop food. Next door was a small antique shop where I stopped for a minute waiting for the rain to let up
and I was greeted by a thick stack of 45s, a fine and friendly greeting. I picked up some old Stax singles, including a little something by Booker T & the MG's. The single is S-137 Chinese Checkers / Plum Nellie. yes you should be jealous. That came out way back in 1963. There's an obsessive discography
here
.
I also hit the Salvation army on 19th street where they had the biggest selection of 45s I've ever seen at a thrift store. It was truly huge. It was also next to Maria's Mexican Cantina and a bakery with a line out the door.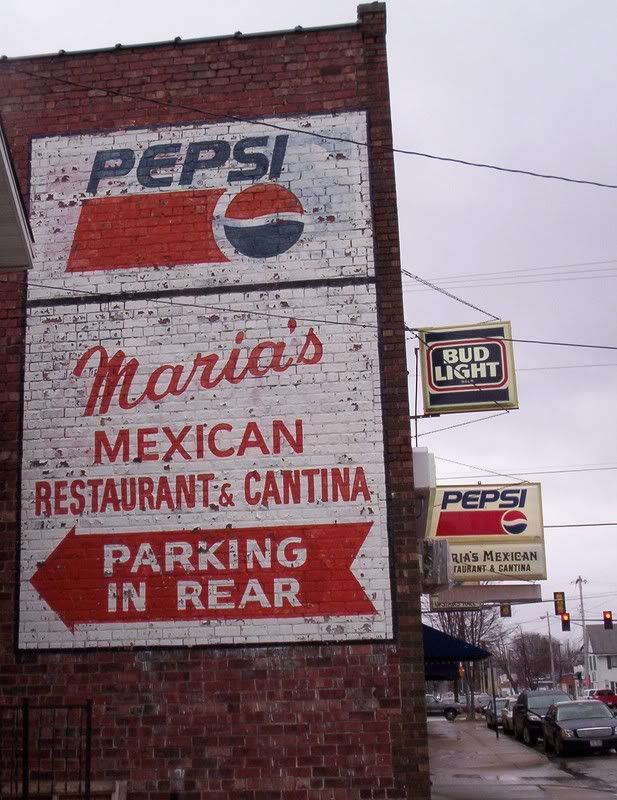 I listened to
KALA
and
KUNI
while in town then headed off further west into Iowa that night. There is nothing between Quad Cities and Des Moines. It's not pancake flat, the hills are low but they are still hills. The land was flooded in places, and the sandy peaks of the corn fields were washing out onto Route 80 west. I stopped for Gas in somewhere near Iowa City.
There I heard something that sounded like sirens. I got in my car and flipped on the radio and was greeted by an EAS alert. There was a severe weather warning from the national Weather Service. On 600 AM
WMT
I found out that in fact there were tornado sightings and that the worst of it was in the area between Keokukl County and Marengo. Minutes later there was a report of a tornado in Williamsburg heading north toward Route 80 between mile markers 124 and 136. I wondered out loud where that was. It turned out to be where I was.
Dark clouds closed in and I caught non -stop coverage of it on several channels many openly mocking the national weather service for refusing to issue a tornado warning. It got very windy and the rain became heavy enough to nearly stop traffic. then off to the south I saw a thick black cloud that was undulating and below it everything was blurry. I actually passed it around Ladora, and in the rear view mirror it seemed to peter out somewhere among the muddy fields and corn stubble before reaching pavement.
I hit Grinnell shortly thereafter and heard
KDIC
for the first time. they were playing an unlistenable mix of 80s pop and IDM. there mission is fully intact. In Des Moines despite the abundance of non-coms
KGVC
,
KDRA
,
KWDW
,
KDPS
, I stayed tuned to
WOI
looking for more storm information. That night the storms continued, but there were no more sirens and my flight out even left on time in the morning.