I had to leave town before the big show, major bummer. Who wouldn't want to see the Electric
Arc
Radio writers perform an original hard-boiled mystery! Of course it's sponsored in part by the artsy radio nerds at
KCMP
. More
here
. They're not quite ready for A Prairie Home
Companion but good noir none-the-less.
I'm sitting here drinking a
Sprecher
Cream Soda which is spectacular, it tastes like honey and vanilla and smoke. I've finally tried fresh cheese curds which do actually squeak on your teeth and I've got
88.9 WORT
playing on the hotel room radio. My Sybil reign as long as the sun rises on Wisconsin.
On the way out of Appleton I got lost and had to pay a homeless man for directions. He didn't know where the highway was but he did direct me to the Goodwill. they did know where the highway was and they also had a couple classic Margaret
Atwood
books on sale. That close to Oshkosh
1280 WNAM-AM
came in clear rocking some Gladys Knight. ON the way south I stopped at a couple more Cheese emporiums: Shultz's Cheese Haus, Lynn Dairy and the Delwood Country Store. I'm going to have to smuggle 10 lbs of cheese through airport security. In wapun I caught the big band sounds of
1170 WFDL-AM
just as 970
WTCH-AM
was fading out the Red Foley version of
Goodnight Irene
.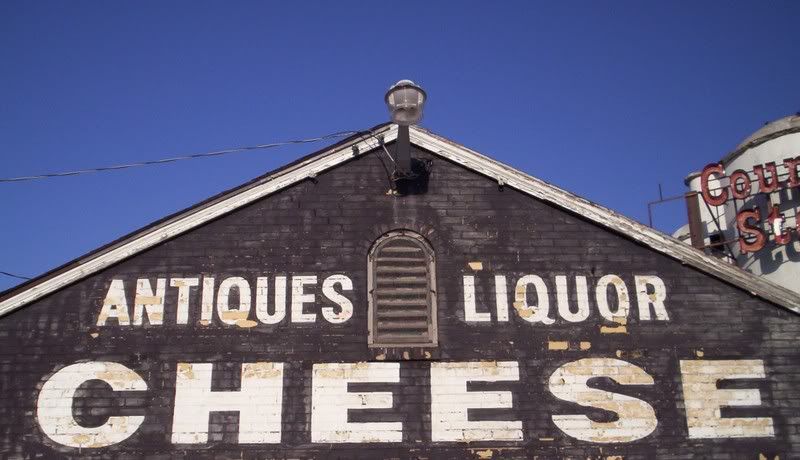 Madison is a great city. The hip part of downtown has no traffic on it except transit buses and is open to pedestrians otherwise. They have lots of bikes, and motor scooters. it's what cities are supposed to be like. There are independent shops everywhere and every other storefront is a restaurant. I hit Paul's Book Store, Ear
Wax
, and B-
Side
Records & Tapes which were all good. but it was The Exclusive Company with their quarter acre-sized used bin and Big N' Loud Music with their gigantic cymbal selection that really made the big impression. I really wanted to hit the Bethesda House of Thrift. But at their door I was greeted by a crude handwritten note informing me that they moved... damn.
I also want to state for the record that Ear Wax is a local chain of punk & metal record stores so kudos to them for that. From the three of them I got the new Saul Williams CD, an old Primal Scream CD, the Plot to Blow up the Eiffel tower LP and then a little reading for the trip back: Annie Dillard's "For the Time Being" and Debra Marquarts's "The Hunger Bone" a Collection of Rock n Roll stories.
At least
WSUM 91.7
is on all night. Right now is the Destructo show a bad-ass Psychedelic fest, then at night They runs a "best of"dipping into their archive of old playlists to play singles from college radio's yesteryear. Yes, you should listen online. http://www.wsum.org/