There is not a lot of gypsy music on the radio in the U.S. A couple shows here and there. I'll get to that in a minute. But there is one ALL-GYPSY MUSIC radio station in the world. February 4th 2001 Hungary's first independent gypsy radio station, called
88.8 Radio C
, began broadcasting. For the record Gypsy is not the nicest word for that ethnicity, in more polite circles they are called "Roma people" I have no idea why.
Radio C
hoped to reach the large but socially isolated gypsy population and bring about it's "emancipation". Based in the capital Budapest, they hope to reach the 100,000-strong gypsy community in and the metro. As only the 12th radio station in Budapest it goes without saying that they have a shot at taking in other non-gypsy listeners.
They began months ahead of the launch by inviting members of the gypsy community to visit its studio and bring along their own music to set up the radio's own music archive. On the topic of gypsy music read this
article
on it's preservation, and download some MP3s free
here
, and
here
.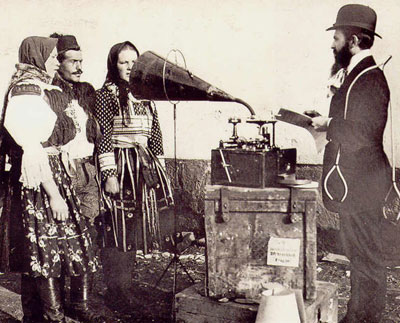 Anyway The success of Radio C has spurred gypsy activists like Olah Vince to try to establish Gypsy radio in other cities like Novi Sad in Serbia. Read about them
here
.